Boo
Life in a Medieval Castle
Visual Tour of an Anglo Saxon Village in Britain
8

Religious and social significance of the Medieval Pilgrimage

1. Purpose of pilgrimage

View: Cathedral Power Point (stop at art slides) and identify key characteristics of the Gothic Cathedral. Know the significance of the structure (both architectural and spiritual).

The Canterbury Tales

Who was Chaucer?

Why did he write Canterbury Tales? What do they reveal about Western European society in the High Middle Ages?

Canterbury Tales background

Listen to the Tales in Old English

HW: Prepare to share your chosen pilgrim:
Who is it/are they?
Social Class?
What does the pilgrim represent or reveal about medieval Europe?
Traveling in a group or alone? Significance?
Also, bring supplies for pilgrim visual!
9
10
Canterbury Tales: Share Pilgrims and begin illustrations
Power Point
Bring supplies for pilgrim visual!
HW: Essay
11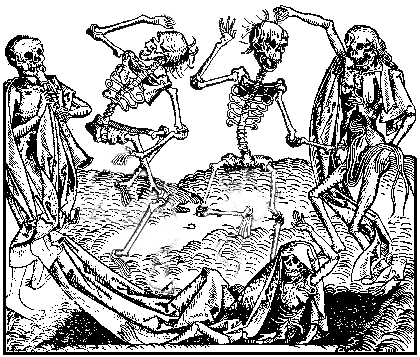 20 Paper Due

The Middle Ages from ruin and restoration to transformation and re-birth.

Review what we have learned about Medieval Western Europe and introduce the Bubonic Plague as the pandemic that transforms Western Europe and ultimately redefines what it means to be "Western".

HW: Plague Docs

take notes on the community, individual, scientific/medical, art and literary response to the plague; effect on religious practice and belief

Bring docs and notes taken to class
21
22

The story of plague is not merely a medical, religious or economic subject. To properly understand the impact of plague it is necessary to consider almost all aspects of society, from art and music to science.

docs: Students will determine the most significant effect of the Plague on Europe -- To what extent was the Renaissance a result of the Plague?

View Plague Power Point
23
24

To what extent was the Renaissance a result of the Plague?

View The Plague

Know: The PERSIA effects of the plague on Western Europe.

Understand: The bubonic plague effected all aspects of society

Do: View The Plague and take notes on the PERSIA effects of the plague on Western Europe..

HW: Which of the PERSIA elements will be most significant for the transformation of Western Europe from medieval "Dark Age" to the Renaissance "re-birth" of the West? Why? Use Docs and film for support - Not an Essay!! Choose and list support (specific!).

Begin Review for Assessment II
The Church
Science/Philosophy
Art
Universities
Plague (see above)
The Rise of Medieval Monarchies
27
28

To what extent was the Renaissance a result of the Plague?

View The Plague

Know: The PERSIA effects of the plague on Western Europe.

Understand: The bubonic plague effected all aspects of society

Do: View The Plague and take notes on the PERSIA effects of the plague on Western Europe..

HW: Begin Review for

Assessment II
The Church
Science/Philosophy
Art
Universities
Plague (see above)
The Rise of Medieval Monarchies
29
30